Carry on flying round the coast! Come to do parasailing with us.
Parasailing is modelled on skydiving; you will be securely harnessed, attached to a parachute safely harnessed to the rear of the speedboat. As the boat speeds up it pulls the parachute, forcing it higher and higher into the air, this allows you to take advantage of the air currents meanwhile you will enjoy the adrenaline rush of this activity and the truly amazing views of the coastline and the beautiful Mediterranean Sea.
The parachutes that we use are designed for 5 people so you can fly with your friends or family in a safe and comfortable way. Come to enjoy the moment, you won't regret it.
– Boat ride in our parasailing boat
– 15 minute flight.
– 1 drink on board.
– Possibility of taking an accompany person with a drink included.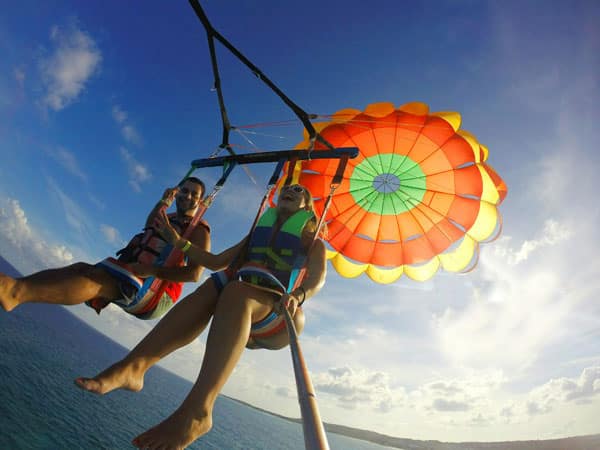 For any questions, please do not hesitate to call, send us an email or WhatsApp message, we will be more than happy to give you any information you require.
3 o more people

55€ / pers.
The skydiving activity consists of a 20-minute theory lesson, then the flight is approximately 20 minutes and after that about 45 seconds of free fall from 3,500 m. with a highly qualified Skydiving Instructor.
Afterwards, you will enjoy a parachute flight of approximately 5 minutes. During which your instructor will guide you to a smooth and safe landing in full view of your friends and family.
Try Paragliding and experience the unforgettable sensation of flying in one of the best areas of Europe. In detail, paragliding is a feeling of great freedom, having the world at your feet, the thrill of launching a new adventure full of fun and adrenaline.
The activity is done in a two-seater paraglider, where you will always be accompanied by a fully qualified instructor. In addition, paragliding is suitable for anyone, even children!