Glide through the clouds and fly!
Try Paragliding and experience the unforgettable sensation of flying in one of the best areas of Europe. In detail, paragliding is a feeling of great freedom, having the world at your feet, the thrill of launching a new adventure full of fun and adrenaline.
The activity is done in a two-seater paraglider, where you will always be accompanied by a fully qualified instructor. In addition, paragliding is suitable for anyone, even children!
What should I bring with me for Paragliding?
It is advisable to wear comfortable clothes and during the flight a fleece or jacket, especially in the autumn-winter seasons. Regarding footwear, mountain boots or trainers, we will provide the gloves and helmet.
Photographs or videos:
If you want to take photographs or videos of you paragliding experience, we will explain how to handle the camera during the flight. This way you will have these unforgettable memories forever.
The photos and videos are included in the price! All you need to do is bring a Micro SD memory card with you on the day of the activity so you can take them home with you.
Extra adrenalin?
Within a few minutes the fear of the unknown disappears and you will begin to enjoy the adrenalin rush.
If conditions permit, and whenever the passenger wishes, we can take advantage of thermals (rising air currents), to climb and gain a few meters. During the flight we can talk, take photos and we will show you the different villages and mountains below. Wildlife on these flights is spectacular.
For a great adrenaline rush and for the most daring pilots, we can also perform some other more radical paragliding maneuvers.
NOTE:
In Alicante we have 2 zones to carry out the activity. One of them is in Santa Pola and the other is in Palomaret. They offer different flights but both very beautiful indeed.
Cabo de Santa Pola: This paragliding experience is along the sea coast. It will give you a peaceful and very pleasant flight which will leave you for sure with an enormous smile.
Palomaret: This is an inland paragliding adventure in the valley of Agost, where you will enjoy a flight of greater height. Here you will find the best thermals. This will allow us to continue climbing and enjoy the magnificent landscape between the mountains and valleys.
The duration of the flight is between 20 and 30 minutes, long enough, since the activity is intense. This may vary slightly as we depend on the air currents on the day.
It is possible to make joint flights with several people at the same time (with several instructors) and fly viewing the vast blue sky.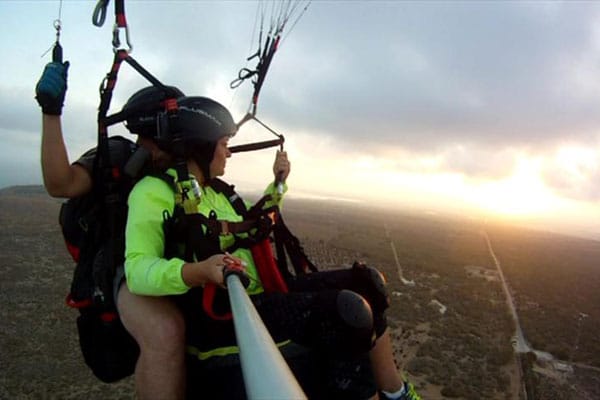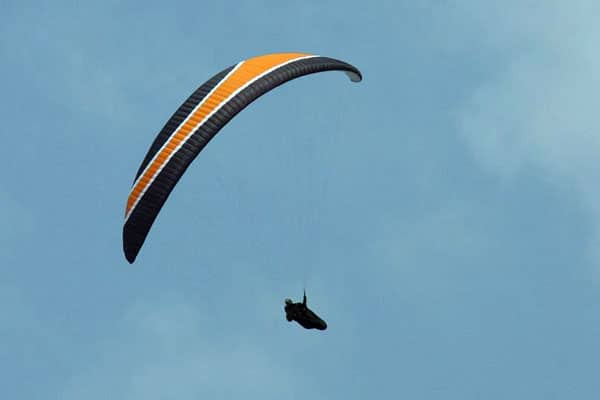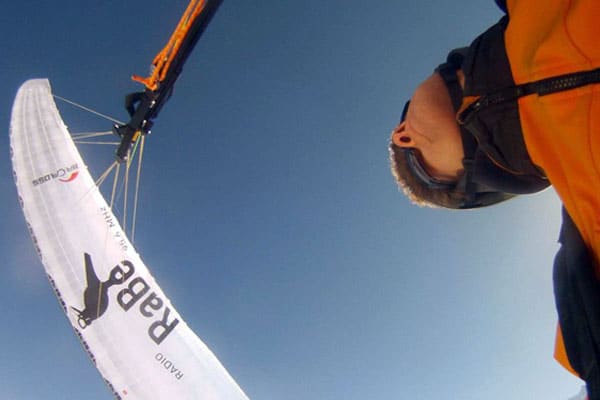 For any questions, please do not hesitate to call, send us an email or WhatsApp message, we will be more than happy to give you any information you require.
Paragliding

70€
Around 20 – 30 minutes
Photos and videos

FREE!
You must bring a Micro SD memory card with you or buy one here for 10€