Become an expert diver, travel and explore amazing places
The PADI Open Water diving course is your first step to becoming a certified diver. You can complete the course in only 3 or 4 days! On completion of the course, you will be certified to dive down to 18 meters anywhere in the world. This course consists of diving theory, 1 day training in confined water, and two exciting and diverse days in open water.
Here at PURA AVENTURA, we offer different options to complete your PADI course. After all, this is your holiday and we will give you total flexibility.
PADI Open Water Theory:
The first step is to choose your theory option for the course:
PADI Open Water E-learning:
You can do the PADI E-learning theory online and complete it from the comfort of your own home in a very simple way. Which leaves you more free time to enjoy your holiday. You will be able to access your course on the PADI app which works on both Apple and Android devices.
When you make the reservation we will send you a personal verification code and full instructions. This way you can start to study at home, during your trip to Alicante, Santa Pola, Torrevieja, at the beach or anywhere you like. This alternative will reduce a large part of the classroom time and you will be able to complete your course in less than 3 full days.
PADI Open Water course with manual:
If you choose the PADI course with manual you must collect your PADI Open Water book at our dive centre in Santa Pola (Alicante). Then read the first three chapters before your theory class with your instructor. This takes around 1 day.
Practical part of the PADI Open Water course:
Once you have completed the theory you can start the practical part of your PADI Open Water course. This consists of 5 dives in total, which are divided into:
Confined water dive:
On the first day of your Open water course you will get to know your instructor, and familiarise yourself with the diving equipment. The next step is to start the training in confined water (in the swimming pool or in calm, shallow water in the sea in Santa Pola, Alicante or Torrevieja).
During the confined water dive you will learn everything you need to know about the equipment, what to do underwater and best of all, the sensation of breathing underwater like a fish. Your PADI Instructor will explain some exercises which you will later practise underwater. You can complete the confined water session in one morning or afternoon.
Open Water dives:
Once you have completed your confined water session you can move on to the Open Water dives. In total you will do 4 open water dives in the sea. This is done over the period of two days of great fun, exploring the phenomenal submarine world with your Instructor.
You will practice the activities previously learnt during the confined water session. You will also learn how the diving equipment works, how to breath and move underwater, buoyancy, safety procedures and much more!
Diving spots during the course:
Santa Pola / Tabarca.
Alicante / El Campello.
Torrevieja.
Cartagena.
Cabo de Palos.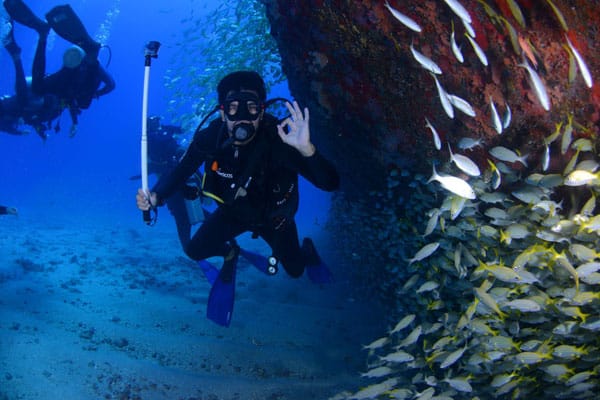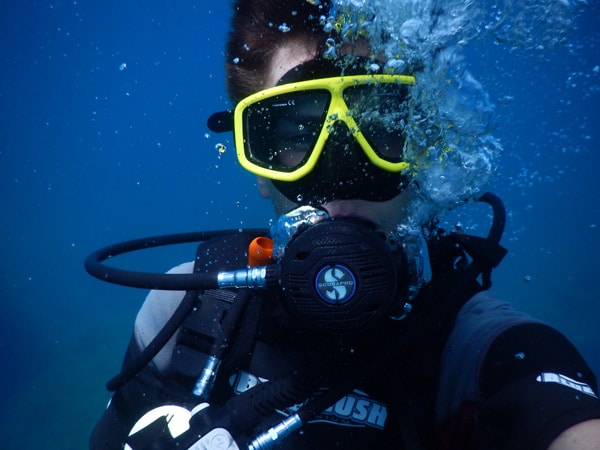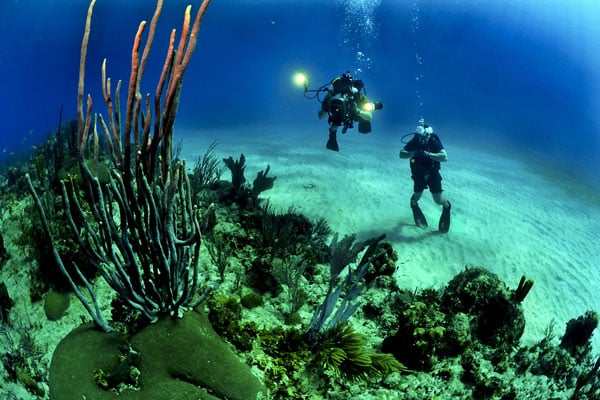 PADI Open Water Diver Course

410€
Should you have any questions, please do not hesitate to call, send us an email or WhatsApp message and we will be more than happy to give you any information you require.
It's time to celebrate!
Congratulations, you are now a PADI Open Water diver! This certification is recognised worldwide and allows you to be a self-employed diver to depths of up to 18 meters without an instructor (Only with a partner with the same level as you or superior). Also you will be given a recognised diving licence!