For everyone who loves sailing and exercising, this is the activity for you.
Do you not know what wind surf is?
Windsurf also has a technical name that describes this sport to the perfection which is Sail board. The wind surf experience is a fantastic one because on your first day you will be able to feel the sensations of navigation and freedom. Anyone can enjoy this experience. Our equipment is adapted for different levels of sailing skills therefore you will definitely progress.
So what are you waiting for?
Try Windsurf 90´
Do you want to try a unique experience?
With our 90' try windsurf you will learn the basic knowledge of windsurf and you will feel your first navigation sensations.
90' Windsurf lesson- 1 day
Each person has their own learning rhythm or maybe only a few free days. Reserve our 90-minute lessons so you can fit it into your Schedule.  We offer from basic level up to advanced lessons. We will adapt ourselves to your specific needs.
Introductory 3h – 2 days
This pack is perfect for your first steps in the world of windsurf and you will learn the basic movements of this sport. Depending on your progress or previous experience you will reach a minimum level that will allow you to windsurf on your own or with your group. We recommend this option so you will have a great introduction to windsurf.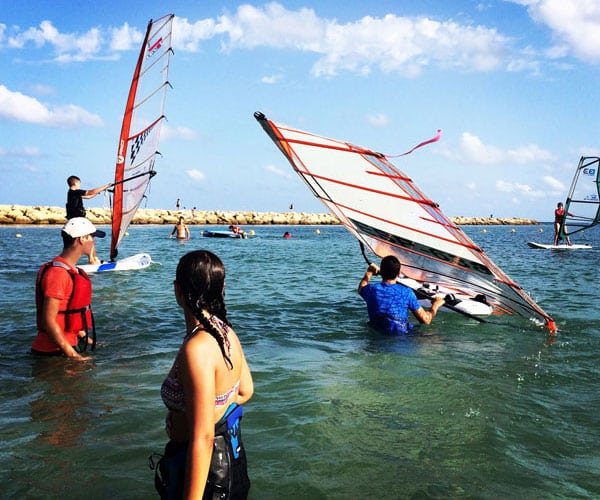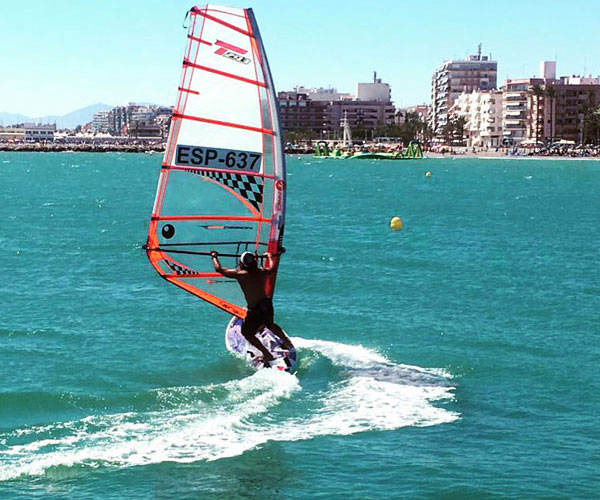 For any questions, please do not hesitate to call, send us an email or WhatsApp message, we will be more than happy to give you any information you require.
Try wind surf

30€
90-minute group lesson from level 0
Intermediate wind surf

30€
90-minute intermediate level group lesson
Introductory wind surf lesson

50€
Two 90-minute group lesson from level 0