Have a great time with your family or friends whilst rafting!
At PURA AVENTURA you can descend down the River Segura from Cieza to Blanca, passing through Ricote Valley. Revitalise yourself and have fun while descending 13,50 km down the river, which normally takes around 3 hours. During the descent you will find a series of different obstacles, river rapids, curves and two different sized dams, the first one in Cieza, called 'Presa del Menjú' and the second in Abarán, called 'Presa de El Jarral'. We offer various ways to navigate the river,
Rafting. The most popular. Rafting, with a very secure boat which holding up to 12 people.
Kayak, which allows you to move easily round the curves and rapids of the energetic river.
Banana. This option is for the most adventurous people. You will also be able to enjoy the unique spices in the area. Midway down the river you will be offered snacks. Photographs will be taken of you, throughout the activity, free of charge.
Team work is vital while enjoying the safety of a pneumatic boat, which will help you dodge the curves, the rapids and the two exciting dams. There will definitely be water fights and lots of laughter. Enjoy this experience with your family and let the little ones get close to nature or live this safe adventure with your friends and loved ones.
We also offer the descend by Canoe or a 9-meter-long Banana boat.
The facilities
Our facilities (on the river's edge) are made up of two reformed changing rooms with over 200 private lockers where you can safeguard your personal belongings, shower facilities and a tourist office.
What is included?
This activity includes:   Qualified monitors, according to the Order ECD/158/2014,  5th February (One monitor per rafting boat and two monitors per ten kayaks). One monitor on land with appropriate transport.
All the appropriate materials for this activity including: boat, oars, life jackets, helmets etc.
Liability and accident insurance.
Sport facilities are equipped with dressing rooms, showers and lockers.
Photographs throughout the activity
Snack (Sandwich + drink: water Estrella Levante, Fanta or Coca-Cola)
Transport from the facilities to the starting point.
Wetsuits (Only in winter. Up to 40 units).
It does not include:
Transport to the facilities
What do I need to take?
Clothing, Swimwear. Sun protection.
Comfortable footwear to do the activity (water shoes, sport shoes or any other shoe that are adjusted to the feet)
A change of clothes, shoes and toilet accessories on completion of the activity.
Our monitors
The monitors who will accompany you on your adventure are highly qualified professionals with vast experience, you can be assured the activity will be totally safe whilst thrilling.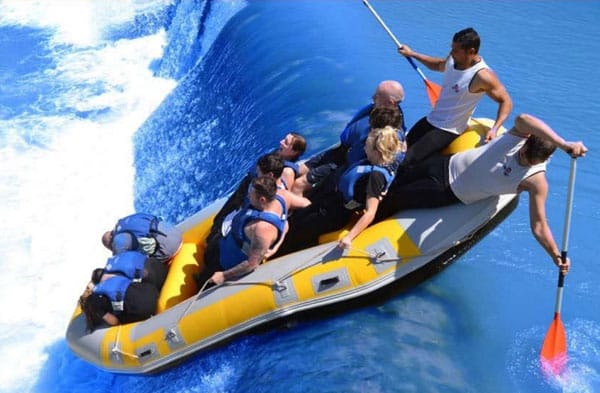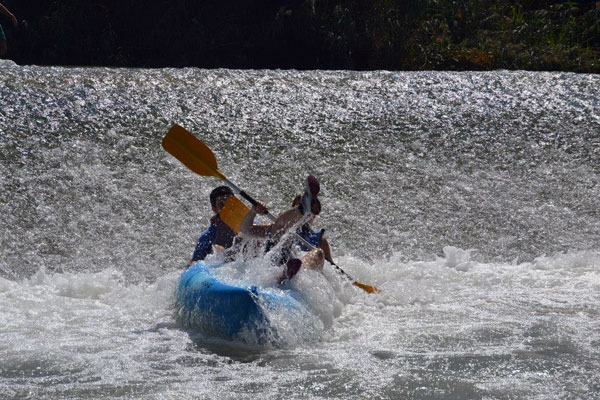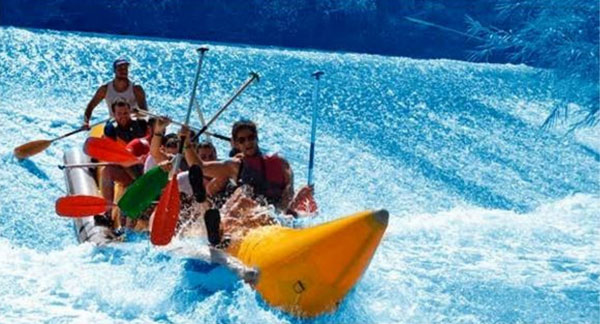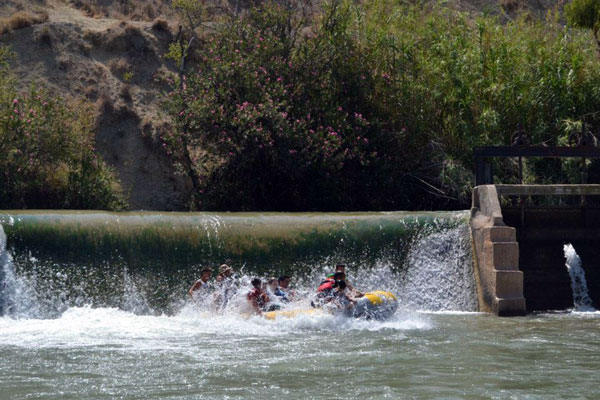 For any questions, please do not hesitate to call, send us an email or WhatsApp message, we will be more than happy to give you any information you require.
Children

21€
under 12 years old