Do you want to fly like Iron Man?
Come and try flyboarding with us.
It is an amazing experience where you will feel the sensation of flying over the water whilst testing your balance.
What does the activity consist of?
We board the Zodiac speedboat which will take us to our activity destination; there will be refreshments and music on board. On arrival at our destination you will be able to swim and start the flyboard course with an expert instructor.
If you would like to be filmed during the activity please give prior notice.
The duration of the activity depends on the number of people participating.
What's included?
The return boat trip to the destination, drinks, flyboard course, liability and accident insurance and all equipment needed, life jacket, helmet and wetsuit.
What do we recommend to take?
Sun cream, swimwear, pills for seasickness if needed and plenty of energy to enjoy the day.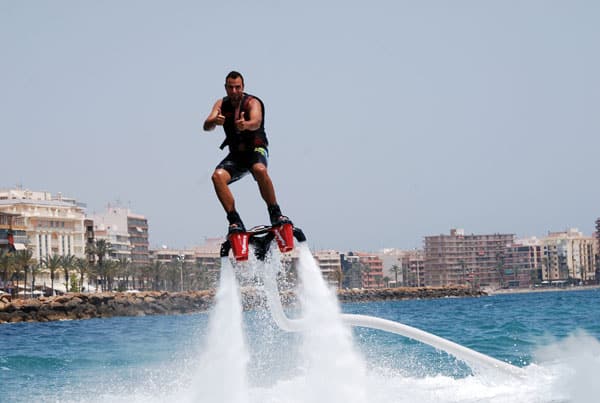 For any questions, please don't hesitate to call, send us an email or WhatsApp message, we will be more than happy to give you any information you require.
Don't let them say that you didn't try it!
Flyboard

30 minutes
20 minutos
15 minutes (minimum 2 pers.)
1-2 people

100€ / pers.
80€ / pers.
65€ / pers.
3-4 people

90€ / pers.
70€ / pers.
60€ / pers.
5-7 people

85€ / pers.
65€ / pers.
55€ / pers.
Accompany person

10€ / persona
Extra Navigation

Depending on which beach you want to go to