Feel the most amazing sensation ever!
The try dive experience is a perfect one day activity, which does not require or include a certification. But, it can be your first step to becoming a PADI OPEN WATER diver. The try dive PADI program, Discover Scuba Diving (DSD), is perfect for people who have always been interested in experiencing what it's like to breathe underwater and discovering the subaquatic world. Below are the different options:
PADI Discover Scuba Diving (DSD):
The second option is PADI Discover Scuba Diving (DSD). This is the most popular option as you will learn a lot more and get the full scuba diving experience.
First of all, you will learn how the diving equipment works, safety procedures and you will go over a few exercises which you will later practice in the water.
Following the briefing, the fun begins! Your instructor will help you put on your diving equipment and enter into shallow water. In the beginning, you will get used to breathing underwater for a while. Once all the participants are feeling comfortable and ready we will proceed to practising the exercises mentioned before.
After a short break you will do your second dive, during which you will be able to go a little deeper and enjoy the amazing underwater world. Accompanied at all times by your qualified PADI scuba diving instructor.
Where do the Try Dives take place?
We do the try dives from the shore in very beautiful and enchanting places in Torrevieja, Alicante, Santa Pola, Cartagena and Cabo de Palos.
What is included?
This activity includes: all the scuba diving equipment, diving insurance, a qualified diving Instructor and transport from our dive centre to the chosen diving spot and back.
Also, if you let us know in advance we can take videos and photos of you during the activity. Free of charge! So you will have these unforgettable memories as a souvenir forever.
What should I bring with me?
Swimwear, sun cream and we would recommend you to bring a snack for in between or after the dives.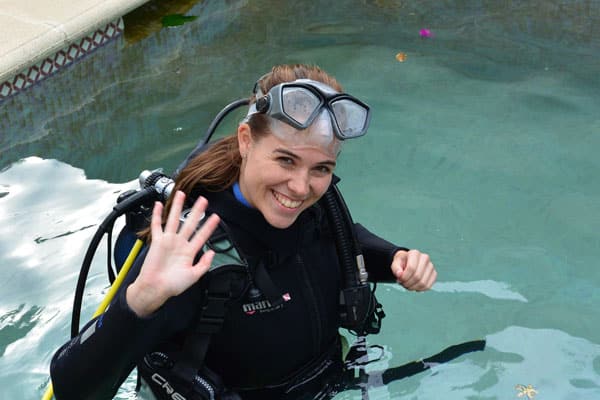 Should you have any questions, please do not hesitate to call, send us an email or WhatsApp message and we will be more than happy to give you any information you require.
PADI Discover Scuba Diving (DSD)

120€
2 dives (1 in shallow water + 1 in open water to max. 12 meters)