Forget drinking Redbull, try Skydiving!
If you want a heart pumping activity,  jump from an aeroplane!
Tandem jump
The skydiving activity consists of a 20-minute theory lesson, then the flight is approximately 20 minutes and after that about 45 seconds of free fall from 3,500 m. with a highly qualified Skydiving Instructor.
Afterwards, you will enjoy a parachute flight of approximately 5 minutes. During which your instructor will guide you to a smooth and safe landing in full view of your friends and family.
The tandem jump is not a skydiving course. Therefore, no previous experience is necessary and the passenger only has to enjoy the experience.
In short, without any exceptional physical conditioning, this type of jump is ideal for those who wish to experience the sensation of flying like a bird.
This is the best way to experience the excitement of skydiving for the first time. In addition, you will do the activity with a qualified instructor using a specially designed parachute for two people. Your harness will be securely connected to your instructor throughout the process.
If you like we will film your experience and take photos of you so that on completion you can take home these magnificent and everlasting memories. Moreover, all videos and photos are taken with the best cameras on the market which support HD format. 1080 HD.
On completion we will award you with a certificate of your jump.
What should you wear?
You must wear sport shoes, like trainers, and gloves and we will provide you with the skydiving jumpsuit. Regarding clothing, we would recommend you wear something comfortable.
Requirements
The maximum weight is 97 kg and the maximum height is 1.95 m. The minimum age is 14 years old with paternal consent and there is no maximum age. But people over the age of 65 must get a medical clearance from a doctor stating that they are fit to do skydiving.
Skydiving course
If you are interested in doing the course, please ask us for more information.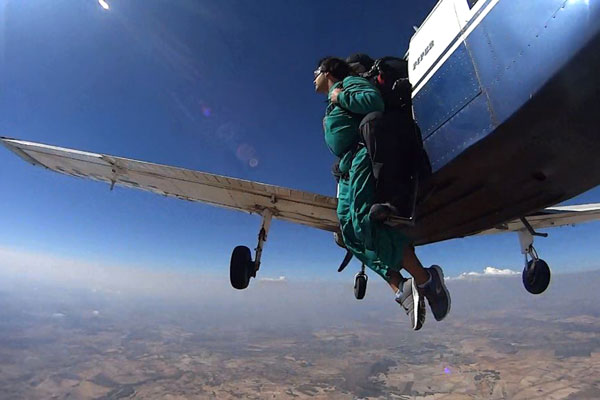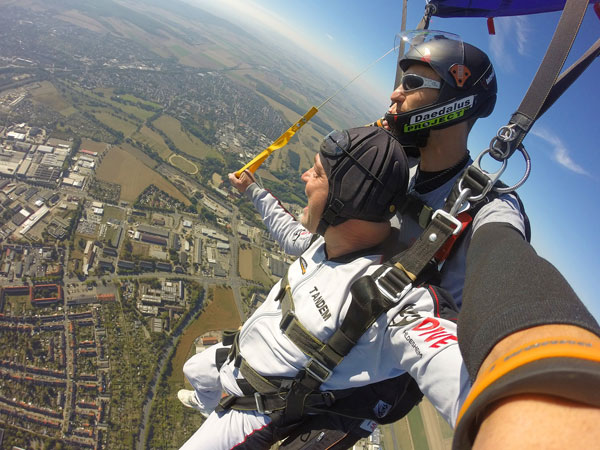 For any questions, please do not hesitate to call, send us an email or WhatsApp message, we will be more than happy to give you any information you require.
We assure you, you will love it!
Skydiving

1 person – 190€
2 or more people – 175€ per person
Skydiving + Video DVD

1 person – 240€
2 or more people – 200€ per person
Skydiving + Video DVD + Photos

1 person – 260€
2 or more people – 220€ per person